Master Key Systems
Benefits of Master Key System
Maximize security and ease of use

Fewer keys with flexibility in design

Each individual only needs to carry one key, even when opening multiple doors

Master key unlocks all doors

Control who has access to what doors
Master key systems are ideal for clients with offices, government buildings, hospitals, warehouses, schools, banks, industrial facilities, apartment complexes, and commercial venues. Any location that needs multiple levels of access can benefit from our master key locksmith services.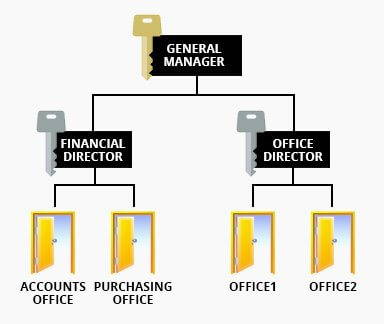 Regain Access To Your Safe
A master key system makes it possible to have complete control of who can have access within your property, and reduce the number of keys each individual must carry. Master key systems can be designed with multiple levels, giving varying degrees of access to employees.
Each system has been built with durable locks that can be keyed to work with individual keys and with a master key. Systems can also be designed with a grandmaster key which would grant access to all areas of your building. This gives another level of access and is useful in many circumstances. For example, if two companies are operating from one building; the owner of both companies can have a master key for their own offices, whilst security guards and building owners can hold a grandmaster key for all rooms.
We also offer other safe services, including:
At Golden Locksmith, we have experience with leading manufacturers, such as Best, Kwikset, Medeco, Mul-T-Lock, Schlage, Master Lock and other master key systems in the market.
Golden Locksmith is a master key locksmith in California. We have over a decade of experience designing master key systems for a range of clients. Our expertise allows us to create a system that is perfect and unique to you and your property. Our technicians will install your master key system with the absolute minimum disruption to your property and business.
Contact us today to find out more, or to arrange a consultation.
Phone Service: 714-841-0141
Thanks!
This field is required
This field is required
This field is required
This field is required
This field is required